Line for packing grain coffee 021.104.01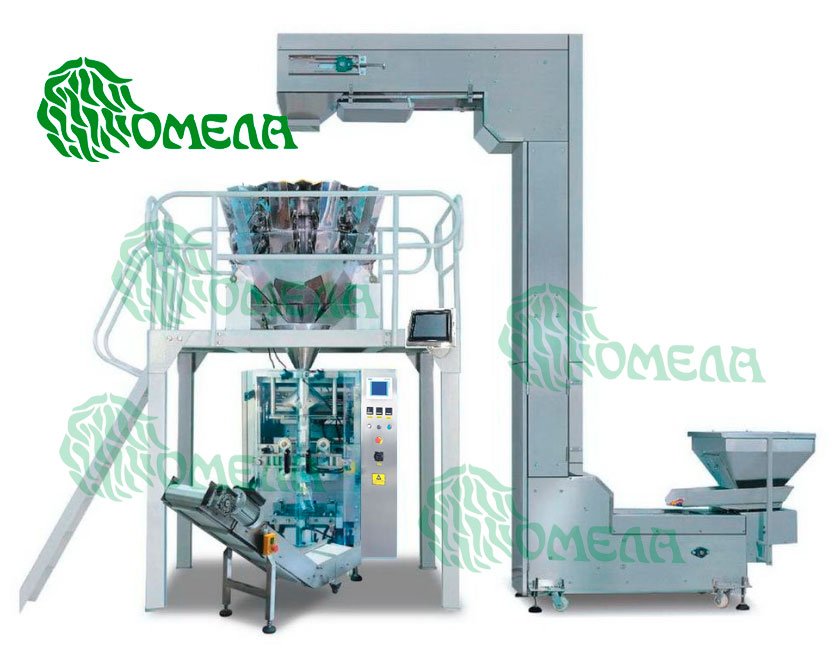 For filling and packaging of free-flowing (eg. granular) goods in the food and non-food industries.
The line is adapted for filling and packing various granular products, in particular coffee beans. But in general, it can be used for a wide variety of free-flowing goods, such as chips, nuts, seafood, frozen foods, popcorn, hardware, nails, chemical products, etc. The whole range of operations on the line is automated.

The line includes: Z-shaped conveyor, 14-cell multihead weigher, Timing Hopper, technical platform, vertical packing machine, discharge conveyor, turntable.

The guarantee is 15 months.

Z-shaped conveyor

The conveyor is designed for vertical lifting of granular material such as coffee beans, other granular food products, chemical products, etc. It can be made of 304 stainless steel or carbon steel. The feeding speed is adjustable. Equipped with vibrating feeder to avoid product hanging.

 

14-head multi-head weigher

It is mainly apply in automatic weighing various granular products in food or non-food industries, such as potato chips, nuts, frozen food, vegetable, sea food, nail, etc.

Cleaning with water is possible. Equipped with a modular control system. Preset stagger dump function to stop blockage.

 

Vertical packaging machine

Perfect for packaging a wide variety of free-flowing products in bags with welded edges. Compatible with many types of weighers and bag films.

Bag making, measuring, filling, printing, cutting, takes place in one operation. The film is automatically centered in the machine.

 

Supporting platform

The platform is suitable to support the multihead weigher, filling auger and easy maintenance of this equipment.

Available in 304 stainless steel or painted carbon steel. Compact, stable, safe, with a guardrail and ladder. Platform dimensions: length 1900 mm; width 1900 mm; height 1600 ~ 2400 mm.

 

Output conveyor

The machine output packed products to check machines, collecting table or flat conveyor.

 

Collect table (rotary table)

It is designed to collect products from conveyor.