Popcorn packing line 022.99.01/051.99.01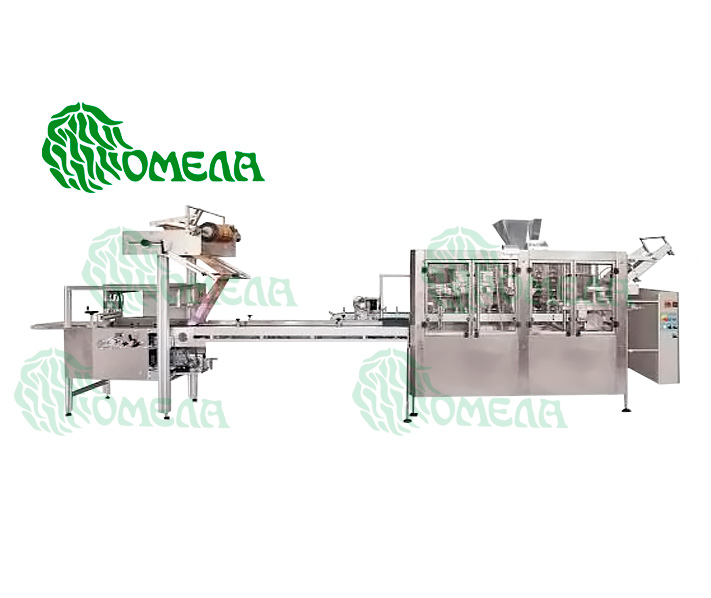 For packing popcorn (semi-finished product) in "pillow" bags.
The line consists of two machines working together to pack the popcorn for further microwave cooking.

The first machine puts salt (sugar), oil and corn into ready-made bags with a sealed bottom. After filling the ingredients, it seals the top of the bag and folds it inside so that it can be used in the microwave. The finished package is then transported by means of a conveyor belt to a machine that produces external PP wrapping.

At the last stage of the packing cycle, it is possible to complete the line with a marking system that is not included in it by default.

The line has 3 separate weighers - for each supplied product. Two feed units are responsible for preheating and storing oil (PNT-02) and feeding corn kernels (ES-01).

The output unit is integrated. The line uses two types of packing materials: ready-made popcorn bags with a sealed bottom side and heat sealable film for outer packing.

The line capacity is 1800-2000 packs per hour. The weight of one package is 90 g.

The hardware warranty is 12 months.

Bag folding, filling and sealing machine 022.99.01

In addition to the material for the outer packing, the technological process also requires special ready-made microwave bags for popcorn with a closed bottom side. The recommended characteristics of these packages are shown below.

| | |
| --- | --- |
| Raw material bag dimensions (WxL) | 140x287 mm |
| Ready bag dimensions (WxL) | 100x140 mm |
| Capacity of the bag | Up to 100 g |

It should be noted that samples of the bags used are required prior to starting the manufacturing process of the machine. The technology supports both classic packs and instant packs.

 

Continuous operation and productivity of line 022.99.01 / 051.99.01 is provided by two modules: ES-01 and РNТ-02.

Corn feed system (optional) ES-01.

This system is a hopper with an elevator for feeding corn directly into the filling system of the 022.99.01 machine. It consists of a stainless steel hopper and pipe, a three-phase motor with overheating protection, a timer for optimizing the motor function, a capacitive proximity switch and a reversible stroke for cleaning the auger.

 

Preheating + oil inlet tanks (optional) PNT-02.

The oil supply module is a system of two tanks, 80 liters each, with a water jacket with additional external insulation and a circulation pump.

In containers, oil is prepared for further use by melting blocks of oil. The oil can be liquid. The temperature is maintained within the operating range by a thermostat. The molten oil is transferred to the oil metering device set at 022.99.01. The oil is dosed using a peristaltic pump.

Flavors such as cheese or caramel can be added to the butter. Homogenization is carried out with a stirrer installed inside the container. DO NOT add salt to oil.