Automatic L-sealer (052.110.400LA or 052.110.5030LG) and thermotunnel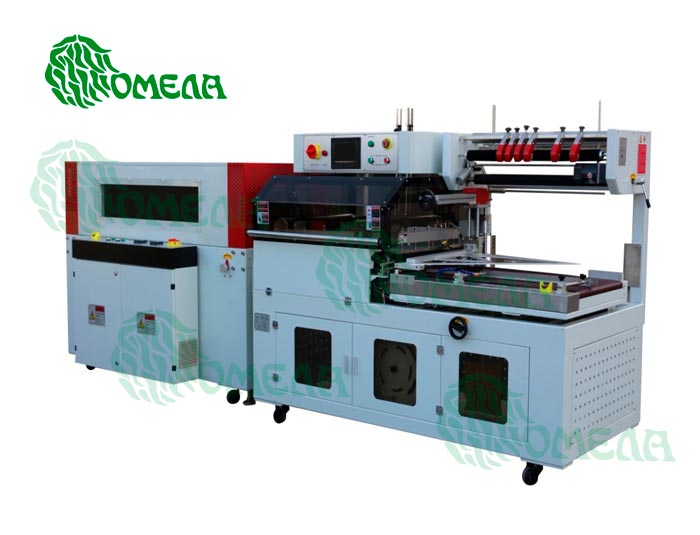 For packaging a wide range of products in shrink films.
The L-shaped sealing machine combined with the shrink tunnel is a fully automatic equipment for shrink wrapping of predominantly piece goods. The range of products to be packed is very wide: from food to cosmetics, printing, ceramics, etc. Group packaging of certain types of goods is also possible: CDs, books, magazines, photo frames, etc. The adjustable automatic film feeding system and the design of the feeding conveyor make it possible to pack products of various sizes.

The aluminum sealing blade has a non-stick Teflon coating and overheat protection, ensuring a clean seam without cracks or carbon marks. The machine is equipped with photoelectric sensors for horizontal and vertical detection, allowing even thin and small items to be packed. The size of the package is changed by rotating the flywheel and does not require changing components. There is a possibility of combination packaging of goods of various sizes for promotions. The machine is fitted with an Atonics digital temperature controller for precise control. The Plexiglas protective screen is equipped with an alarm system. The machine works without operator intervention, has the ability to connect to the production line. In addition, if necessary, it is possible to add the function of stopping the machine and signaling when the film breaks. Optionally, it can be equipped with a conveyor with pushers for working on a photo mark.

As for the thermal tunnel, it uses pre-ventilation from below, allowing full use of heat to improve energy efficiency. In this case, the direction and volume of the purge can be adjusted. Through the transparent window of the thermal tunnel, you can observe the shrinkage process. The top of the tunnel can be opened for easy cleaning and maintenance. The speed of the conveyor, which is responsible for the equal distance between the goods, is adjustable, which ensures uniform tightness of the package.