Horizontal packaging machine "Flow Pack" with top and bottom film feed and walking knife 051.55.350-800W\XW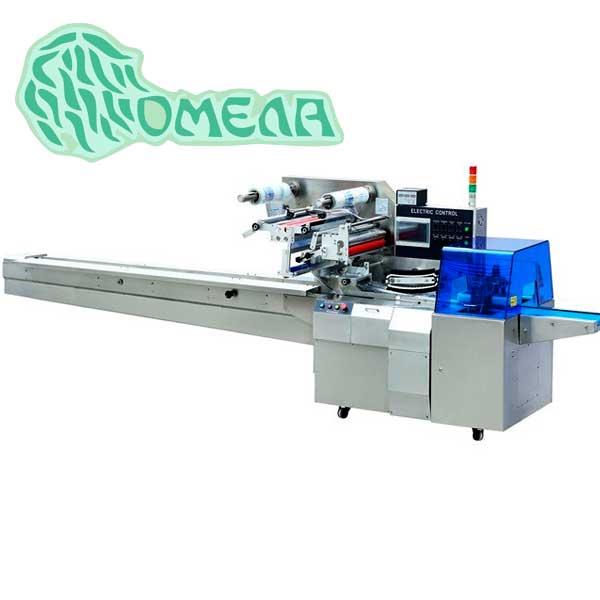 For packing piece items in "flow pack" and "pillow" bags. Allows packing large items.
The versatility of the Flow Pack packing machines is widely known. The equipment confirms this rule. It can be used for packing various types of goods, both products and office supplies, household chemicals, household and medical items. In this case, both individual and group packing is possible. The packed goods should have constant shape and size.

The packing material can be heat sealable laminated films such as OPP, aluminized, POPP polypropylene and other laminated heat sealable packing films (except for pure PE).

Horizontal packing machines of the W series are equipped with a special walking knife, which allows packing relatively large items while ensuring high-quality sealing of the transverse seam and simultaneous cutting of the finished package, and also allows the formation of pillow-gusset packing.

 

Additional devices and options:

1. Thermal printer for date and shift indication. 

2.  Complete machine execution in stainless steel instead of standard painted steel.

3. Gas filling (MGS). 

4. Alcohol injection.

5. Forcing air out of the package.

6. Euroslot.

7. Applicator (labeler)

8. No product-no packaging function to save film.

9. Possibility of installing servo drivers instead of standard electric motors. Manufacturers to choose from: China, Germany, Japan. The advantages of servo drives are automatic adjustment of the product length, the ability to make a package almost unlimited in length, the function "no product - no package", low noise.

Main technical and structural features:

Two asynchronous motors and PLC controller for smooth adjustment of bag length and cut.
The conveyor is made of polished stainless steel for food handling. It is possible to choose the type of feeding conveyor: standard with pushers or belt with partitions.
There is an automatic fault diagnosis function, the reason for the failure is clearly displayed.
Highly sensitive photoelectric sensor for automatic tracking of photo marks, which, unlike the function of manual input of cut parameters, makes the process of forming cross seams and cutting more accurate.
The separate temperature control system allows the use of different packing materials.
The possibility to stop the machine in the selected position without sticking to the knife and losing film.
Reliable performance, convenient service and operation.
Expandable functionality with additional devices and options.